Sunrise Estates
Sunrise Estates is a subdivision approximately four miles east of Columbia. Built in the 1960-80s without stormwater controls, residents experience problems with erosion, flooding, and standing water. In 2010, Boone County and our partners applied for a Section 319 Implementation Grant through the Missouri Department of Natural Resources. Our project was picked for funding in October of 2010, and finalized in March 2011. A major component of the grant is to find solutions to runoff problems in an urbanized subdivision. To help reduce flooding, 65 rain gardens/rain barrels, 60 tree plantings, and three community water treatment features will be installed in Sunrise Estates over the next three years. Since many of these retrofits will occur on private property, this will be done on a volunteer basis, through cost-share.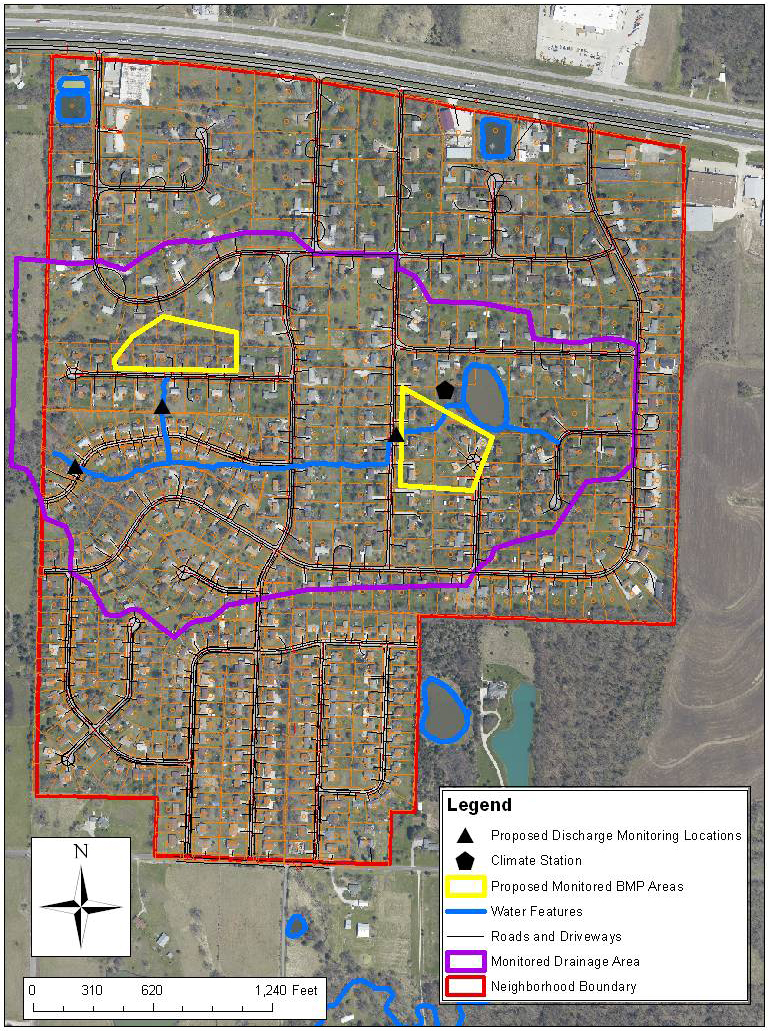 Sunrise Estates monitoring locations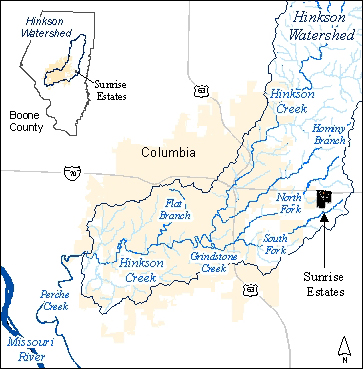 Sunrise Estates location in Hinkson Creek Watershed
To help scientists record precipitation, an electronic climate station was installed in the neighborhood (near the community park). Thanks to our partners at Sunrise Estates, a wifi connection enables access for all. To view rainfall amount, wind speed and direction, relative humidity, temperature and solar radiation, click here.
If you are a Sunrise Estates Homeowners Association member and would like to receive weather updates from the climate station, please complete the request form.
Best Management Practices Implemented at Sunrise Estates
| Practice | Goal | # Installed/​Planted |
| --- | --- | --- |
| Rain Barrels/​Rain Gardens | 45 | 55 |
| Community Stormwater Features | 3 | 0 |
| Tree Plantings | 60 | 57 |
Retrofit Activities at Sunrise Estates
Subcatchment flume and flow Logger installed

- September 10, 2014

Sunrise Estates Composting and Soil Amendment Workshop

- September 6, 2014

Collaborative Adaptive Management Stakeholders Tour

- October 29, 2013

Sunrise Estates Tree Planting & Stream Dynamics Workshop

- September 21, 2013

Sunrise Estates Rain Garden Planting

- September 11, 2013

Sunrise Estates Community Features Informational Meeting

- September 10, 2013

Sunrise Estates Rain Garden Installation

- August 19, 2013

Sunrise Estates Community Features Informational Meeting

- August 13, 2013

Sunrise Estates Tree Planting Workshop

- April 28, 2012

2012

Sunrise Estates Build-A-Barrel Workshop

- April 14, 2012

Flow gauge and barologger installed at Sunrise Estates' largest outlet

- January 2012

2011

Sunrise Estates Build-A-Barrel Workshop

- August 20, 2011

Climate Station Installation

- July 8, 2011
Sunrise Estates Stormwater News