Snow Routes
Priority, Secondary and Gravel Snow Routes
No routes in effect.
Snow Removal Goal
Our goal is to have all county roads passable within a reasonable amount of time after the snow has stopped. Our plowing priorities reflect a commitment to ensuring that priority roads are kept open to serve critical facilities and provide access between state highways and our communities.
Winter Planning Tips
Please view the Boone County Road & Bridge Response to Winter Weather for more information on the topics listed below.
During an Emergency
During snow and ice conditions, emergency calls from the Police and/or Fire department are considered first priority. If you are experiencing an emergency during a winter storm, please contact Joint Communications by dialing 911, Joint Communications will then contact Road & Bridge to assist if necessary.
City of Columbia's Winter Weather Website
Resident Plowing
County residents who remove snow from their driveways are reminded that snow should not be pushed or piled onto County roads. Please shovel your driveway in the same direction as traffic.
Missouri Department of Transportation (MoDOT) Winter Weather Map
Parking
Please avoid parking in the roadway as this may delay snow removal for that road.
Winter Weather Awareness from the National Weather Service, St. Louis Office
Damaged Mailboxes & Fence Information
If you live in a rural, drift prone area, please mark your mailbox to assist the road maintenance crews in avoiding them.
If a properly installed mailbox is directly hit by a Boone County Road & Bridge truck, we'll try to get it repaired - or a temporary set up within 48 hours. The county may choose not to repair mailboxes which were a.) installed incorrectly by United States Postal Service (USPS) guidelines for height and distance from edge of road, b.) previously damaged, or c.) poorly maintained (ie. rotten or rusted supporting structures).
Boone County will not pay or reimburse you for purchasing a replacement mailbox. A properly installed and maintained mailbox and its supporting system should withstand snow plowing operations.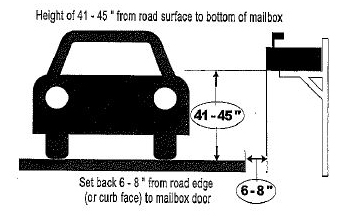 For more information on the proper installation and placement of mailboxes, please see the USPS mailbox guidelines.
The county will not pay for damaged fences unless snow removal equipment has made contact with the fence. Claims for damaged fences need to be made to Road & Bridge within 30 days.
Mailbox Claims & Repair
Reporting of mailbox damage should be made within 5 business days of damage. Reports will be sent to maintenance supervisors for verification of operations at the location. The county will make every effort to restore postal service within 48 hours of notification of damage. Repair of the mailbox will meet USPS guidelines and standards. If the mailbox post requires re-location to meet USPS height and distance requirements, the user is responsible to adjust their mailbox post and will be notified and provided USPS guidelines.
Snow Route Maps
Choose from the following snow routes or mouse-over the image and click your geographic area.
Note: You will need the Adobe Acrobat Reader to view the snow route maps on this page. The reader will open the maps inside this page. Use the Acrobat toolbar to zoom in/out and the "Hand Tool" to view specific areas of the maps. These maps were prepared for the Road & Bridge department. Please contact the Boone County Road & Bridge Department at (573) 449-8515 for more information.