Winter Weather
Important Winter Weather Resources
Winter Ready Kits
Missouri's winter weather is so unpredictable! Many winter storms keep us from leaving the house/work, cause us to be stuck on the highway and often involve power outages. If we aren't prepared, they can really cause fear, anxiety, and discomfort!
It's a great idea to keep an emergency kit in your car, at work AND at home. This way – whenever Missouri decides to 'Let it Snow' you're not saying 'Oh, no!'
If you have kids, let them make their own winter-ready kits! This can be a fun way for them to realize what items are a necessity during a winter storm or power outage. It also allows for open discussion for them to ask questions, raise concerns and for you to discuss what would happen if you were separated in a winter storm for a long period of time.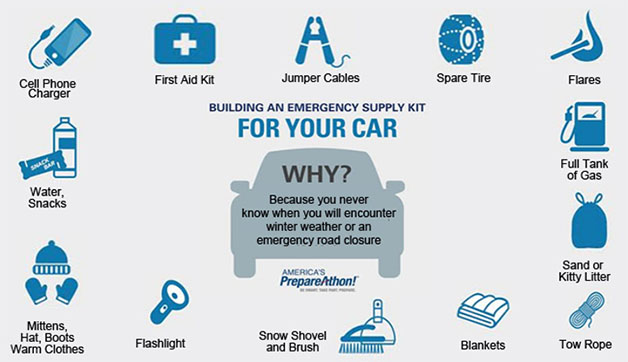 Heating Homes
Heating a home in Missouri's winter can be expensive! Many Missouri families choose to use alternate heating sources during the winter months to supplement and keep those electric bills down.
Warming Center Sites in Missouri
Extreme cold can affect everyone and can cause Hypothermia! Hypothermia is dangerous and deadly. Those most at risk for hypothermia are people who work outside, people in poor physical condition, the elderly, children and people with health problems such as diabetes, heart disease and hypertension. If you or a loved one needs a warm, safe place to go during extreme cold weather this resource is available to all Missourians and there are many warming centers located in Boone County! Click here for the locations, phone numbers, and hours of warming centers in the City of Columbia.
Winter Preparedness Checklists
In order to not be severely affected by Winter Weather, Winter Storms &/ a Winter-Related Power Outage we, as individuals, must act BEFORE any of these things happen. It's a good idea to start your checklist in the Fall so you have plenty of time gradually to check those items off the list. Once you have established these Preparedness Kits for your home and car it becomes easier each season since you will just need to replenish!
Traveling Safely in Winter Weather
Traveling in winter can be nerve-racking! Staying informed while traveling is helpful but make sure you check the NWS forecast and road conditions before you embark on your journey. Keep your Winter Ready kit easily accessible in your vehicle while traveling as well. It's also a good idea to winterize your vehicle before the weather turns!
National Weather Service (NWS) - Winter Weather Safety Tips
Whether it's exposure to the cold, vehicle accidents, or even fires, too many people in our community are injured or killed each year as a direct result of Winter weather! Learn how you can keep yourself, family, friends, and others you care about safe during the Winter weather in Missouri!
Outdoor Safety Tips
Avoid overexertion

. Cold weather itself, without any physical exertion, puts an extra strain on the heart. If you add to this the strain of heavy physical activity such as shoveling snow, pushing an automobile or even walking too fast or too far, you risk damaging your body.

Wear layers

. Dress warmly in loose-fitting, layered, light-weight clothing. Outer garments should be tightly woven and water repellent. Wear a hat. Protect your face and cover your mouth to protect your lungs from very cold air. Wear mittens instead of gloves — they allow your fingers to move freely in contact with one another and will keep your hands much warmer.

Look out for signs of cold weather exposure

. Frostbite causes a loss of feeling and a white or pale appearance in extremities such as fingers, toes, tip of nose, ear lobes. If such symptoms are detected, get medical attention immediately. Do not rub with snow or ice — this does not help the condition and, in fact, will make it worse. The best treatment for frostbite is the rewarming of the affected tissue, as described above in the section on treatment for cold weather exposure. If paralyzed persons or infants must go outside in severe weather, they should be checked frequently for signs of frostbite.

Avoid alcoholic beverages

. Alcohol causes the body to lose its heat more rapidly - even though one may feel warmer after drinking alcoholic beverages.

Stay dry.

. Change wet socks and all other wet clothing as quickly as possible to prevent loss of body heat.  Wet clothing loses all its insulating value and transmits heat rapidly.