Outdoor Warning System
Outdoor Warning Sirens
Why use outdoor warning sirens?
Sirens are still the most effective method to warn the population at large in the shortest amount of time. People who may be outdoors at ball games, in their yard, or anywhere else where they are not in contact with the normal news media channels such as radio, TV or local public address systems.
How are they activated?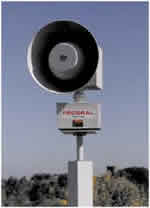 Radio control is the most popular method of activating sirens. To activate the siren system, the operator presses a button and a radio signal is transmitted. The signals are picked up by the receivers at the sirens. They decode the paging signals to determine what they are to do. A particular signal may instruct the sirens to give a weather warning call, while still another may cause the sirens to stop their sounding. With the new generation of communication signal processors, the variations are limitless.
Why are they called outdoor warning sirens?
The sirens are called outdoor warning sirens because their primary purpose is to alert people who are outside to severe weather, chemical, or other emergencies. While you may be able to hear the siren inside your house, this is not the primary function of the outdoor warning siren.
What should I do if I hear an outdoor warning siren?
If you hear an outdoor warning siren you should seek shelter inside immediately. Once inside, you should turn on a television or radio to find out further information. Local officials will be disseminating information about the emergency through these outlets.
Does Boone County issue an "all clear" notice from the outdoor warning sirens?
No. With the unpredictability of severe storms the outdoor warning sirens are intended to notify anyone outside to seek shelter indoors immediately. Once you are sheltering indoors, and connected to a media source providing up to date information, you may not hear the sirens any longer, thus it is important to seek further information elsewhere. Outdoor warning sirens are only intended to notify people outside of impending severe weather, not an all clear notice that the storm has passed.
When are the outdoor warning sirens tested?
The outdoor warning sirens are tested at noon on the first Wednesday of each month. In the event of threatening weather, the test may be postponed.
What is the range of the outdoor warning sirens?
The siren wail sound can be heard for an approximate distance of ½ mile. Sounds can travel different distances depending on weather and other atmospheric conditions, so please remember these distances are just estimates and that the primary function of the outdoor warning sirens is to warn people who are outside of emergencies.
Does Boone County participate in the Statewide Tornado Drill?
Yes. Every year the National Weather Service designates the date of Missouri's statewide tornado drill. The drill is generally held during the first two weeks of March. The National Weather Service usually sets the date for the drill by January each year. During the Statewide Tornado Drill, NOAA Weather Radios will alert, and citizens will hear the outdoor warning sirens sound. All citizens are encouraged to participate by practicing taking cover in their designated shelter. In the event of inclement weather, the drill will be rescheduled for a later date, usually within the same week.
The Statewide Tornado Drill is conducted in addition to the regularly scheduled outdoor warning sirens test each month.
Columbia/​Boone County Outdoor Warning System Locations
Country Club of Missouri - Forum Blvd. & Crestwood Dr.
Columbia Fire Station 6 - Chapel Hill Rd. & Wallace Dr.
2500 Old Highway 63 South - Jefferson Commons Apartments
3301 West Broadway - Community Methodist Church
2205 North Stadium - Break Time/ Midwest Block & Brick
William & Rollins St. - University Of Missouri Veterinary College
Lindell Dr. & Greenwood Dr.
Hulen Dr. & Summit Rd.
Providence Rd. & Nifong Blvd. - Columbia Fire Station 7
1313 Lakeview St. - Grissum Building
New Haven Rd. & Lenoir St. - New Haven Elementary School
4011 I-70 Drive Southeast - Bourn Feed MillShepard Blvd & Audubon Dr. - Shepard Blvd Elementary School
Shepard Blvd. & Audubon Dr. - Shepard Blvd Elementary School
3216 Lemone Industrial Blvd. - Ryder Truck
2201 Ballenger Ln. - Ballenger & Rice
Leeway Dr. & Woodland Ave. - Blue Ridge Elementary School
6100 Paris Rd. - Broad Building Supply
Greeley Dr. & Brown Station Rd.
Bus. Loop & Parkade Blvd. - Parkade Plaza
Range Line St. & Northland-Ferrell Gas
Walnut St. & Anita Ct. - Stephens Lake Park
6th & Broadway - Howard Building
Stadium & Forum - Forum Shopping Center
1729 W. Broadway - Broadway Shopping Center - Gerbes
Kentucky & Maryland Ave. - Laws Hall
Proctor Dr. & Creasy Springs Rd.
Sycamore Dr. & Oaklawn Dr.
Albany St. & St. Charles Rd. - Keeneland Downes Apartments
2201 West Worley - Columbia Mall Carwash
Vandiver Dr. & Nelwood Dr.
Ponderosa & Nifong Blvd. - Nifong Park
Cosmo Park - Antimi Fields
Columbia Regional Airport
Stadium & College Ave.
Southampton Dr. & Forum Blvd. - Wilson's Beach Club
Nifong Blvd. & Sinclair Rd. - Millcreek Elementary School
Carter Ln. & Campus View Dr. - Campus View Apartments
Smiley Ln. & Oakland Gravel Rd. - Lange Middle School
Sussex Dr. & Scott Blvd.
Nifong Blvd. & Juniper Dr. - Columbia Manor
Hallsville City Hall
Sturgeon City Hall
Harrisburg City Park
Rocheport
Ashland City Hall
Highway 40 & Cunningham Rd. - Midway - Precious Cargo Daycare
Johnson Ave. & Henry Clay - Ashland
Highway 40 & Trails West Dr. - Midway Elementary School
Wade School Rd & Trobridge Dr. - County Downes Subdivision
Highway HH & Colt Railroad Tracks - Fast Lane Station
1675 Prathersville Rd- Boone County Fire Station 5
Clearview Rd. & Hackberry Dr. - Clearview Subdivision
Mary Ann Cir. & Highway PP - El Ray Heights
Richland Rd. & Sunshine Dr. - Sunrise Estates
St. Charles & Lake of the Woods Rd. - Boone County Fire Station 1
Dozier Station Rd. & East Serenity Cir. - Meadow Village Subdivision
Highway WW & El Chapparal - Boone County Fire Station 12
Scott Blvd. & Belleview Dr. - MKT Trail
Scotts Blvd. & Crabapple Ln. - Paradise Hills Estates
Route K & Hoe Down - Boone County Fire Station 8
Logwood Ln. & Hillcreek Ln. - Hillcreek Subdivision
Highway 163 & Route N - Pierpont Store
Palis Nichols Rd. & Liberty Ln. - Liberty Baptist Church
2nd & Main - Hartsburg
Route Z & Judy School Rd. - Two Mile Prairie School
Highway 63 South & Huggard Ln. - High Hill Trailer Court
Route K & Old Plank Rd. - Leatherwood Hills
Report Malfunctioning Sirens
Please submit an e-mail to Emergency Management with the following data:
The location of siren;
The nature of the malfunction (not sounding, not rotating, muted audio, won't shut down, etc.); and
If you wish to be contacted by a member of the Office of Emergency Management Staff.