Boone County Ready Festival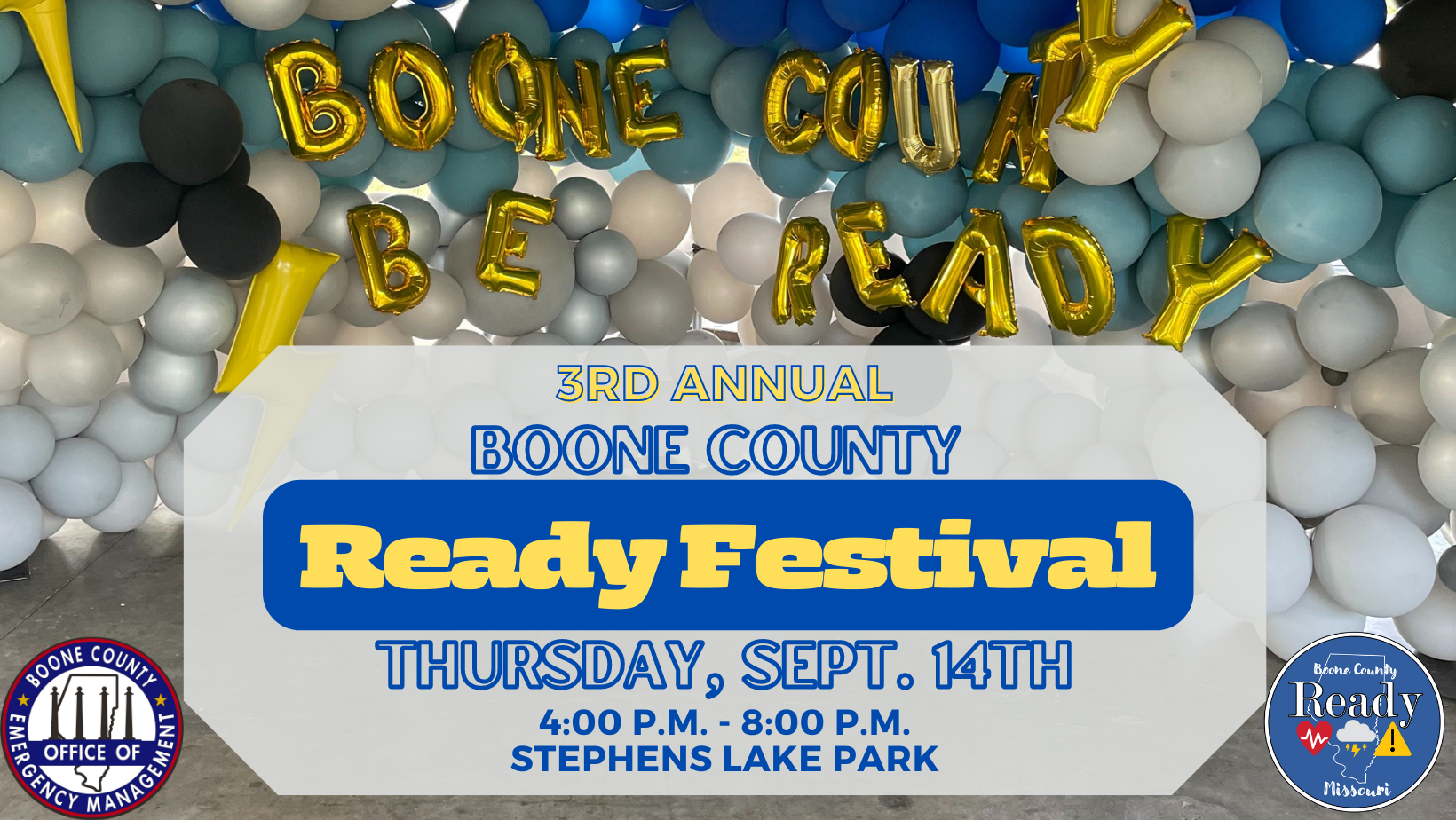 September is National Preparedness Month! Learn more about National Preparedness Month.
About the Event
OEM hosts the annual, community-wide Boone County Ready Festival (formerly Preparedness Fair) on Thursday, September 14th, 2023 to recognize everyday heroes in the response and preparedness fields while fostering preparedness and building resiliency in our community. This year the family and pet-friendly event will be from 4pm to 8pm at Stephens Lake Park in Columbia. We will have food, activities, crafts, live music and more!
The event has been renamed to align with the community preparedness campaign, Boone County Ready, that was launched March of 2022. Boone County Ready aims to enhance community preparedness, foster collaboration and build resilience by engaging our citizens in actively preparing for emergencies and disasters. Learn more about Boone County Ready and find the tools that you need to be better prepared.
Text PREPARE to 77295 to opt-in to event-specific alerts and notifications. You will automatically be opted out at the end of the event.
Thank you to our sponsors!
The 2023 sponsorship packet is now available.
Online registration is available for interested sponsors as well
If you are interested in more information about sponsoring the 2023 event, please email us at em@boonecountymo.org or call 573-554-7900.
Vendor Registration Open
The 2023 Vendor Booth registration is open. Registration is due by July 14th, 2023.
Volunteers Needed
Many members of the Boone County Community Emergency Response Team (CERT) support the event by volunteering to work. Volunteers receive a free meal voucher for a food truck of their choice the day of the event and an appreciation gift bag. If you are interested in volunteering, please email us at em@boonecountymo.org or call 573-554-7900.
Event Schedule
Check back closer to the event to see the schedule of activities.
Event Map
The event map will be available closer to the event. Check back in July!
Tom S. Hurley Public Safety Service Award
Each year we accept nominations from the Boone County community to recognize someone who goes above and beyond to serve others.
Nominations for 2023 will be accepted from June 1st, 2023- August 1st, 2023.
Learn more about the Tom S. Hurley Public Safety Service Award.
Nominations are reviewed and awardee selected by a comprehensive committee of community member in the public service industry. The 2023 committee is composed of individuals from the following organizations:
Committee Chair: Chris Kelley, BCOEM Deputy Director
Boone County Office of Emergency Management
Boone County Joint Communications
MU Healthcare
Boone Health
Columbia Fire Department
Boone County Fire Protection District
Boone County Sheriff's Office
Columbia Police Department
Selected Event Photos