County
County Offices
Boone County is working hard to serve the County's citizens by delivering online, easy access to many of the services provided by the County. Here you can easily access information varying from Commission meeting minutes and orders to personal property and real estate information. We may save you a trip to the Roger B. Wilson Boone County Government Center by providing services such as online updates of your Personal Property Declarations, absentee ballot requests, and real time search access to many of the county systems. We also provide a map to the Government Center and hours of operation. Need a phone number? Check out the phone directory. Please, send us your comments and suggestions. We are here to serve you.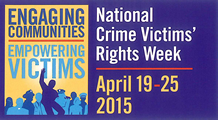 NATIONAL CRIME VICTIMS' RIGHTS
5K - 2015
SUNDAY, APRIL 19
2015

Subscribe to the Boone County News email list.
---
www.ShowMeBoone.com Boone County, Missouri. 801 East Walnut Columbia, MO 65201 USA