Employee of the Quarter
Second Quarter of 2023
The Employee of the Quarter for the second quarter of 2023 is Jody Moore from Facilities Maintenance and Custodial Services.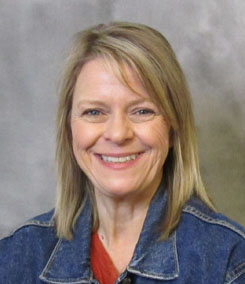 Working in Boone County Facilities Maintenance for over 18 years, Jody works with vendors to ensure that they understand Boone County's needs and to ensure that Boone County gets the best and most appropriate products and services for the jobs. Jody also works with internal customers to ensure that the services and spaces that they require to do their jobs meet their needs, while balancing changing timelines, budgets, and competing expectations.
Jody is supportive of her co-workers, providing them with the tools and education they need to do their jobs and encouraging them to build their skills so that that the individuals and team can be successful. This year, Jody has spearheaded a highly successful process to increase the Facilities Department's commitment to customer service and to extraordinary performance. Through her increased efforts to communicate all relevant information to her co-workers, as well as to stakeholders inside and outside the County, she has helped the department gain recognition for its "can do", professional attitude. Her co-workers have responded to her leadership by joining with her in this project and showcasing a department committed to a terrific work product.
Jody's diligent commitment to internal and external stakeholders and her unwavering support of her co-workers make her very deserving of Employee of the Quarter.
Additional Recognition
The Employee Recognition and Suggestion Committee would also like to recognize the following nominees:
Heather Acton – Senior Accountant/Financial Analyst – Auditor's Office
Sharry Charest – Hiring & Retention Coordinator – Human Resources & Risk Management
Pat Devaney – Professional Civil Engineer – Resource Management
Julia Lutz – Director, Information Technology – Information Technology
Lenna Peterson – Program Specialist – Community Services