ShowMeBoone.com

Boone County Commission

Boone County Government Center
801 E. Walnut, Rm 333
Columbia, MO 65201-7732
Office (573) 886-4305
Fax (573) 886-4311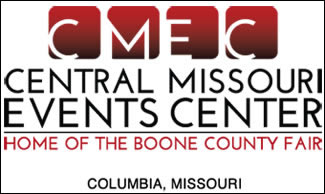 Central Missouri Events Center - Home of the Boone County Fair
Thank you for your interest in the Central Missouri Events Center, Home of the Boone County Fair.
The CMEC is not currently available for public use and will remain unavailable for the foreseeable future but please see the CMEC Review Committee information below. Thank you for your past support.

Any questions? Feel free to contact the Boone County Commission Office:
Boone County Commission

801 East Walnut, Rm. 333
Columbia, MO 65201-7732

(573) 886-4305 Phone
(573) 886-4311 Fax
---
Subscribe to the Boone County News email list.
www.ShowMeBoone.com Boone County, Missouri. 801 East Walnut Columbia, MO 65201 USA