Boone County News Release
---
---
Boone County Circuit Clerk Christy Blakemore Receives Clifford H. Ahrens Award
September 27, 2018 – Boone County Circuit Clerk Christy Blakemore was presented with the Clifford H. Ahrens Award on Thursday, September 27, 2018, at the Missouri Bar/Judicial Conference 2018 Annual Meeting in St. Louis, Mo. The Missouri Court Automation Committee (MCA) presents this award annually to an individual who has made significant contributions to court automation.
Recipients of this award exhibit appreciation and respect for the importance of court automation in providing due process of law and ensuring the effective and efficient administration of justice; a demonstrated commitment to excellence in court automation; and an extensive and established history in making substantial contributions to court automation, including the innovative use of technology to improve court automation.
Circuit Clerk Blakemore serves on the Missouri Court Automation Committee (MCA). She also serves on various subcommittees including the Change Control Sub Committee (CCSC), Case Management Oversight Team (CMOT) and the Implementation Planning Task Team (IPTT). The primary focus of their current work is to develop and implement a new case management system, Show Me Courts.
The award is named after the Honorable Clifford H. Ahrens and his dedication and considerable contributions to court automation. Judge Ahrens served as a charter member of the MCA from its initiation in 1994, chair of the MCA Budget and Personnel subcommittee from 1995 to 2003, MCA vice chair from 1995 to 2002, and MCA chair from 2002 until 2015, when he retired from the bench.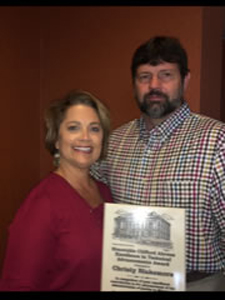 Circuit Clerk Christy Blakemore and husband Gary Blakemore
###
The Government of Boone County, Missouri employs over 500 people and serves more than 162,642 citizens across 691 square miles by administering and enforcing state and local laws, collecting taxes, assessing property, maintaining roads, conducting elections, recording public documents, and much more.