Boone County News Release
---
Press Archives
Press Room
For Immediate Release
Media Contact:
Joint Communications Director Chad Martin or Operations Manager Brian Maydwell
Phone: (573) 874-7400
---
BCJC Achieves 3rd Accreditation
December 14, 2015
A telecommunicator with Boone County Joint Communications was recognized for his outstanding efforts to aid a citizen in need using Smart911, the 9-1-1 service aimed at improving emergency response. Chuck Mastalski was presented with a "SmartSave" Award, which honors and rewards call-takers, dispatchers and emergency responders who are able to effectively use the national public safety service to positively affect the outcome of an emergency.
On July 18, Mastalski received an emergency call from a man who was in distress and unable to breathe. The caller was unable to answer any of Mastalski's questions in order to dispatch appropriate help to his location. The man had previously signed up for Smart911, and when Mastalski answered the call, the man's Safety Profile appeared on his screen, providing a name, address and medical notes on the caller. Mastalski was able to confirm the man's location and dispatch response teams to him, which arrived quickly and were able to successfully treat the patient.
"When you can hear that someone is in distress, but you don't have the information you need to help them, those are the moments that make this job difficult" said Mastalski, a 34 year veteran of Joint Communications. "In this case, the details that were necessary to facilitate a response were immediately available through Smart911, without the caller having to say a word."
Smart911 allows citizens to create a Safety Profile for their household that includes any information they want 9-1-1 and response teams to have in the event of an emergency. When a citizen makes an emergency call, their Safety Profile is automatically displayed to the 9-1-1 call-taker, allowing them to send the right response teams to the right location with the right information. With Smart911, responders can be aware of many details they would not have known previously: fire crews can arrive at a house fire knowing how many people live in the home and the location of bedrooms, EMS can be advised of allergies or specific medical conditions, police can have the photo of a missing child in seconds rather than hours and more.
"We are grateful that citizens are taking advantage of Smart911, allowing their profile to speak for them when they may not be able to," said Joint Communications Director Chad Martin. "Many people never expect to need 9-1-1, but often times that is when this information is most valuable and may be lifesaving."
Residents are encouraged to create their Safety Profile with Smart911 at www.smart911.com today to have their information immediately available to 9-1-1. Smart911 data is private and secure, is only used for emergency responses and available to the 9-1-1 system in the event of an emergency call.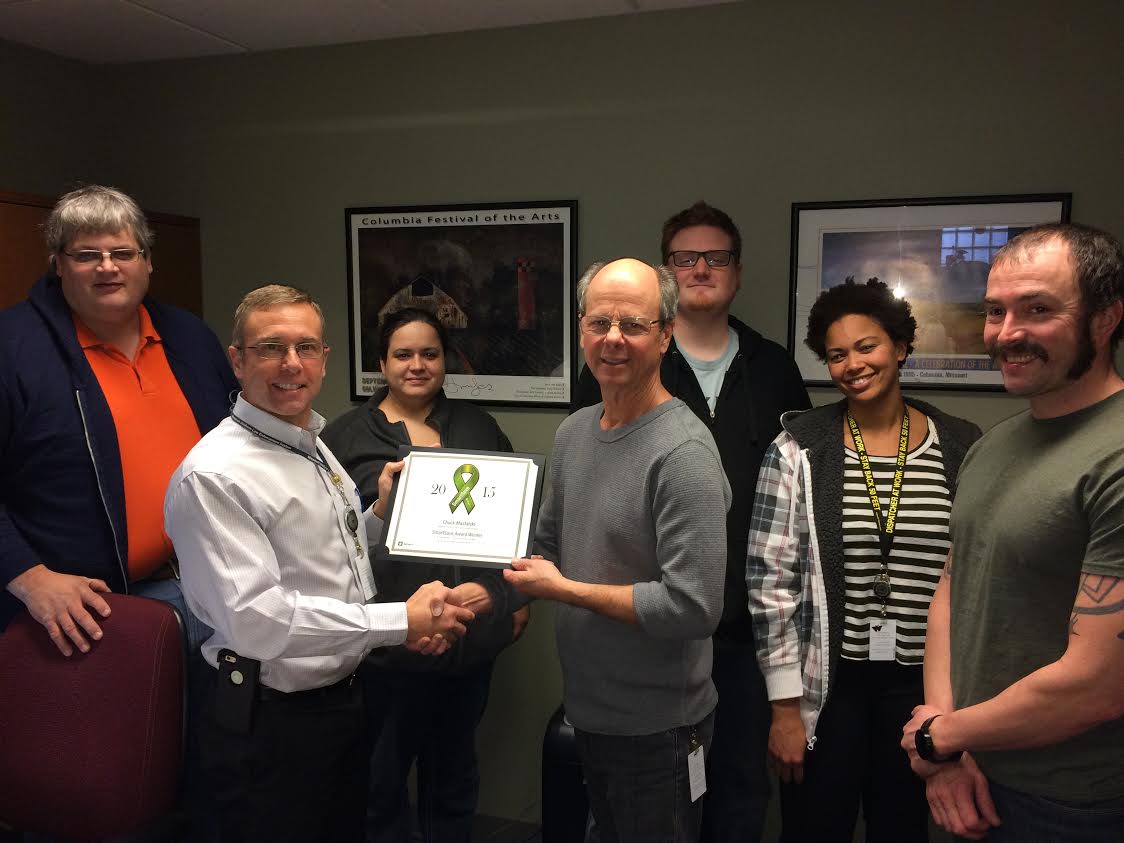 Chuck Mastalski receives SmartSave award from Assistant Joint Communications Director Joe Piper. Also in the picture are telecommunicators from Joint Communications.
###