FOR IMMEDIATE RELEASE
November 28, 2012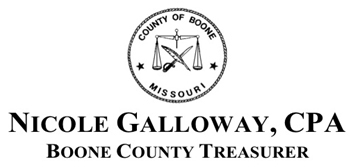 Boone County receives government excellence award from Missouri Association of Counties
Award received for creation of only county-based online unclaimed property database in Missouri
 COLUMBIA – Boone County Treasurer Nicole Galloway announced today Boone County was selected to receive one of five 2012 Missouri Association of Counties' County Excellence Awards for the creation of the county's Unclaimed Property Database. County Treasurer Galloway oversaw the development of the system, which is Missouri's only county-based online unclaimed property database.
 "This is statewide recognition of the innovation citizens expect and Boone County government works to deliver to improve services, operational efficiency and government transparency," County Treasurer Galloway said. "The Missouri Association of Counties represents 114 member counties, and I'm extremely proud of the honor. Most importantly, it highlights an improvement that has helped return $11,500 over the past 13 months to citizens and businesses."
 The Missouri Association of Counties selects County Excellence Award recipients based on problem solving, impact to budget, cost savings and results.
 "With only five awards presented every year, there is certainly strong competition," said Dick Burke, executive director of the Missouri Association of Counties. "Boone County should be proud of this innovative effort."
 County Treasurer Galloway holds more than $50,000 in unclaimed property in 3,000 accounts.
 "Our Unclaimed Property Database was instrumental in increasing returns by 5,456 percent year-over-year," Country Treasurer Galloway said. "Over the coming year, I am focused on building awareness of the unclaimed property I hold so we can make more returns."
 Unclaimed property includes checks issued by the county that remain uncashed. Examples include outstanding refund checks written to citizens or checks to vendors for services. Checks become unclaimed property if they are outstanding for 180 or more days. After being held for three years by County Treasurer Galloway, unclaimed property is required by state statute to be turned over to the state where it is held forever until claimed.
 Citizens may search and file claims 24 hours a day, seven days a week at www.ShowMeBoone.com/Treasurer. Anyone with questions may call (573) 886-4365 or email treasurer@boonecountymo.org.
 About Boone County Treasurer Nicole Galloway
County Treasurer Galloway is a CPA and Certified Fraud Examiner. She manages a $45 million investment portfolio, and is responsible for making sure it is invested safely and securely, that investments meet the liquidity necessary for the county's cash flow needs and that investments achieve the best return possible. She issues all general obligation and revenue bonds, administers banking services and manages unclaimed property for the county. She provides oversight for several financial and non-financial projects as a member of county boards and committees, including the Local Emergency Planning Committee. 
Contact:
Nicole Galloway
Boone County Treasurer
801 East Walnut, Rm 205
Columbia, MO 65201-7798
Email:
NGalloway@BooneCountyMO.org
Phone: (573) 886-4367
twitter.com/nicolergalloway