Daniel K. Atwill - Presiding Commissioner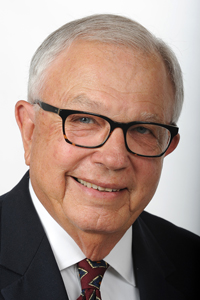 Elected
Daniel K. Atwill (Democrat) was appointed as Boone County Presiding Commissioner in October 2011 and was sworn into office on October 6, 2011. He was then elected in 2012 and re-elected in 2014 and 2018.
Experience
Dan began his career in active duty with the United States Air Force as a Captain in the JAG Corps. He served as Chief of Military Justice at Nellis, AFB, Nevada, and later as an attorney at the Headquarters of the USAF Communications Command at Richards Gebaur AFB, in Belton, Missouri. After completing four years in the USAF, he returned to Columbia, Missouri to practice law with the firm of Knight and Ford. During the next two decades, he was involved in commercial litigation, oil and gas explosions, automobile accidents, divorce litigation, train accidents, chemical spills, and workers' compensation cases.
In January 2000, Dan, with partner Rick Montgomery, co-founded the law firm of Atwill & Montgomery. Their office is located in the historic Guitar Building., across from the Boone County Courthouse.
Dan and Karen Eads Atwill have been married since 1968 and have three children: Dana Wilhite, D.V.M.; Kirsten Craver, J.D.; and Daniel E. Atwill, a realtor. Dan and Karen have seven grandchildren.
Commission Assignments
Dan will work to improve communication with citizens of Boone County and provide effective and efficient services to the citizens of Boone County through continuous process improvement. Dan is the financial signing official and is currently liaison to the Boone County Office of Emergency Management and Boone County Joint Communications. He is also liaison to Boone County Public Works, which includes Maintenance Operations and the Road & Bridge Advisory. He also serves on the following boards:
Airport Advisory Board
Boone County Fire Protection District Board
Boone Hospital Center Board (BHCB)
Columbia Area Transportation Study Organization (CATSO)
Columbia Chamber of Commerce Board
Industrial Development Authority (IDA)
Local Emergency Planning Commission (LEPC)
Mid-Missouri Regional Planning Commission (MMRPC)
Missouri Innovation Center (MIC)
Southern Boone County Fire Protection District
State Workforce Investment Board
In addition to his individual responsibilities, Dan also shares the role of liaison with the District I and District II Commissioner for the following organizations of Boone County:
Appointments of Boards & Commissions
Board of Equalization (BOE)
Budget Approval
Commission Budget Coordination
Farm Bureau
Legislative Priorities
Quarterly City of Columbia/Boone County/Columbia Public Schools/MU/Columbia Chamber of Commerce
West Central Commissioner's Association
To contact Commissioner Atwill directly, please email datwill@boonecountymo.org