Justin Aldred - District I Commissioner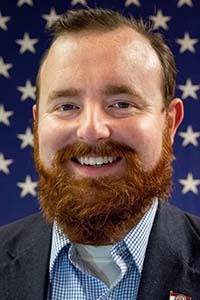 Elected
Justin Aldred (Democrat) was elected as Boone County's District I Commissioner in November 2020 and sworn into office on December 31, 2020.
Experience
Justin began his enlisted military career in the US Army with the 342nd CBRN Company in Urbana, Illinois. He was quickly selected for the Ike Skelton Early Commissioning Program, sending him to Wentworth Military Academy in Lexington, Missouri, where he earned his commission as an Army Lieutenant.
Justin completed his Bachelor of Arts degree in Political Science at the University of Missouri and earned a Certificate in American Constitutional Democracy from the Kinder Institute, all while serving as the Battalion Signal Officer for the 175th Military Police Battalion, Missouri Army National Guard. After working as a news writer and broadcaster with KMZU, he served as Special Projects Coordinator with the Missouri State Auditor's Office, assisting with government communications and data analytics.
Commission Assignments
Justin is currently liaison to the Boone County Resource Management Department, home to planning, building codes, inspections, engineering and stormwater and to the Information Technology Department. He is also liaison to the Boone County Human Resources Department, which includes Employee Benefits, Risk Management and the Workers Compensation Committee. He serves on the following boards:
Boone County Regional Sewer District (BCRSD)
Convention & Visitors Bureau (VCB)
Downtown Leadership Council (DLC)
Extension Council
Health Trust Committee (HTC)
Parking
Regional Economic Development, Inc. (REDI)
In addition to his individual responsibilities, Justin also shares the role of liaison with the Presiding Commissioner and District II Commissioner for the following organizations of Boone County:
Appointments of Boards & Commissions
Board of Equalization (BOE)
Budget Approval
Commission Budget Coordination
County Commissioner Association of Missouri (CCAM)
Legislative Priorities
Quarterly Meetings - City/County/Columbia Public Schools/UMC/Chamber
West Central Commissioner's Association
To contact Commissioner Aldred directly, please email jaldred@boonecountymo.org