Boone County News Release
---
Press Archives
Press Room
For Immediate Release
Media Contact:
Fred Parry
Southern District Commissioner
County of Boone
573-886-4307

Steven Sapp
Community Relations Director
City of Columbia
573-874-7257
Steven.Sapp@CoMo.gov

---
Boone County to Transfer Ownership of Fairgrounds Property to City of Columbia
December 5, 2019 - Officials from Boone County and the City of Columbia announced Thursday, Dec. 5 that they have reached an agreement to transfer ownership of the Boone County Fairgrounds from Boone County to the City of Columbia. A Memorandum of Understanding must now be approved by the Boone County Commission and the Columbia City Council.
Highlights of the Memorandum of Understanding include:
-Transfer of 135.9 acres from the County to the City via a special warranty deed. No cash will be exchanged between the two parties.
-City of Columbia agrees to convert the property into a recreation complex that will benefit all of the residents of Boone County. Park planning staff will solicit public input for the final design, but the new park could fulfill existing needs including six synthetic multi-sport turf fields, an 8-lane track and field area, four baseball/softball diamonds, two picnic shelters, an inclusive playground for children and adults of all abilities and a 29-acre agricultural park that could become the permanent home of the annual Boone County Fair.
-City of Columbia will be responsible for the maintenance of the MKT Trail currently being maintained by the County, providing trail users with a single point of contact regarding special events or maintenance issues.
-City of Columbia will honor existing leases with Veterans United Home Loans and United Parcel Service (UPS).
-Boone County will retain ownership of the separate 53.6-acre tract that fronts the northbound lanes of Highway 63 across from the existing fairgrounds.
Boone County first purchased the fairgrounds from the Boone County Agricultural and Mechanical Society in 1999. After several failed attempts to keep the fairgrounds in continual operation, the County closed the fairgrounds in 2015 and initiated leases with Veterans United and UPS to cover the upkeep of the property.
"This is a great outcome for the citizens of Boone County," Boone County Presiding Commissioner Dan Atwill said. "The opportunity to leverage the City's vast experience in parks planning for this large tract of land creates a public asset that will be enjoyed by generations of Boone Countians."
"This is a terrific opportunity to provide a regional park to the residents of Columbia and Boone County. The development of this property will enhance our ability to attract regional and statewide sports events," Columbia City Manager John Glascock said. "This also serves as a strong indication of just how much progress has been made in the improvement of relationships between the City and County. The act of transferring ownership of the Fairgrounds to the City of Columbia is something that speaks volumes about how far we've come in our efforts to provide efficient and cooperative services."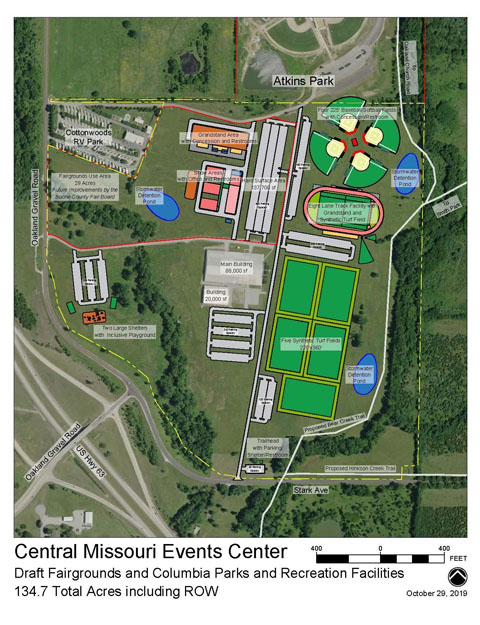 ###