Boone County News Release
---
---
Boone County Announces Launch of New Website Design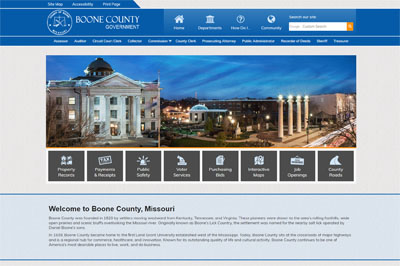 December 8, 2017 – Boone County is pleased to announce the launch of our newly re-designed County government website. For the first time in nearly twenty years, the website has undergone a complete redesign. This new design consists of a modern, user-friendly look and feel through the use of an updated color pallet and an enhanced layout that optimizes page flow and readability. There are new, more intuitive menu options that offer one-click access to the most commonly sought-after information on our website, while maintaining easy access to the offices and departments our users are accustomed to seeing in the old menu layout. Additionally, the new layout is mobile-friendly for optimum access and readability on all devices.
The new home page has all the same information as before and more. There are quick access links to commonly accessed County services and information. In some instances, information has been organized by topic in a central location to make finding what you need easy and convenient. The Additional Services section at the bottom of the new home page contains the calendar, quick access drop-down menu, and newsletter subscription form citizens are accustomed to seeing on the home page. Each county office or department page will have their office-specific menu on the left, while maintaining access to the sitewide navigation menu at the top of each page, eliminating the confusion of how to get back to the main menu.
Our initial launch of the website will include the Boone County home page and several offices and departments whose website redesigns have been completed. The remaining offices and departments will be transitioned to the new look and feel as the IT department completes them.
###