FOR IMMEDIATE RELEASE
March 6, 2012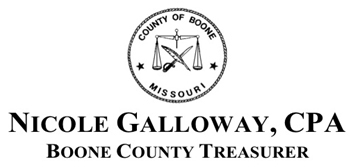 Bond refinancing will save Boone County government an estimated $170,000 says County Treasurer Nicole Galloway
Savings a result of Boone County's strong bond rating and low interest rates
COLUMBIA – On the heels of announcing that Boone County had its Aa2 bond rating reaffirmed, County Treasurer Nicole Galloway announced today the county has taken advantage of its strong bond rating to refinance $2.2 million worth of revenue bonds. The move saves county government an estimated $170,000 in principal and interest payments over the next six years. The refunding County Treasurer Galloway sought was approved by the County Commission unanimously March 1.
"I am proud we were able make this fiscally prudent move for Boone County that saves us an average of almost $30,000 each year," County Treasurer Galloway said. "Our Aa2 bond rating is in the top 25 percent of all counties in the nation. Because of the bond rating, along with favorable market conditions, we were able to save a significant amount of money for Boone County – something we value and respect. Now citizens have more options in how we invest and use those funds in Boone County moving forward."
The bond refunding is for bonds originally issued in 2003 to finance county projects at the Health Department Facility, Juvenile Justice Center, and improvements to the Boone County Government Center at an interest rate of 3.83 percent. Under the new debt issuance, County Treasurer Galloway said the average interest rate would be lowered to 1.66 percent.
Boone County has a Aa2 bond rating from Moody's Investors Service. The report may be read here: http://www.moodys.com/research/MOODYS-ASSIGNS-Aa2-RATING-TO-BOONE-COUNTYS-MO-22-MILLION--PR_238761
About Boone County Treasurer Nicole Galloway
Treasurer Galloway is a CPA and Certified Fraud Examiner. She manages a $40 million investment portfolio, and is responsible for making sure it is invested safely and securely, that investments meet the liquidity necessary for the county's cash flow needs and that investments achieve the best return possible. She issues all general obligation and revenue bonds, administers banking services and manages Unclaimed Property for the county. She provides oversight for several financial and non-financial projects as a member of county boards and committees, including the Local Emergency Planning Committee.
Contact:
Nicole Galloway
Boone County Treasurer
801 East Walnut, Rm 205
Columbia, MO 65201-7798
Email:
NGalloway@BooneCountyMO.org
Phone: (573) 886-4367
twitter.com/nicolergalloway