ShowMeBoone.com

Brian McCollum
Boone County Collector

Boone County Government Center
801 E. Walnut, Rm 118
Columbia, MO 65201-4890
Office (573) 886-4285
Fax (573) 886-4294

Collector,
Brian McCollum
Pay Taxes by Drop Box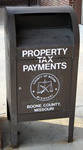 Located under the sheltered area at the east entrance to the Boone County Government Center
(Corner of 9th & Ash Streets)
Directions
PLEASE DO NOT PLACE
CASH IN THE DROP BOX
Checks • Money Orders • Credit Cards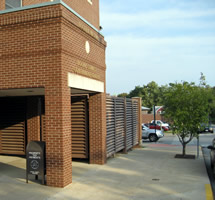 One check may be written for multiple tax bills. Please remit the correct total due, include the bill numbers on your signed check, and make checks payable to Boone County Collector. Unsigned checks will be returned and applicable late charges may apply.

Any check that is returned will be subject to a $25 returned payment fee, plus any applicable late charges that may have accrued since the original payment. There are no exceptions to these charges being assessed.
When using the drop box and paying with a credit card, a convenience fee of 2.50% will be added to the total tax bill amount and charged to your credit card; minimum fee is $1.50. We accept MasterCard, Visa, Discover, and American Express cards.

The entire amount due must be paid before a receipt will be mailed.

The drop box is emptied several times daily and at midnight on December 31.
Any questions? Feel free to contact us:
Boone County Collector

801 E. Walnut Rm. 118
Columbia, MO 65201

collector@boonecountymo.org

(573) 886-4285 Office
(573) 886-4294 Fax
---
Subscribe to the Boone County News email list.
www.ShowMeBoone.com Boone County, Missouri. 801 East Walnut Columbia, MO 65201 USA